Urban Exchange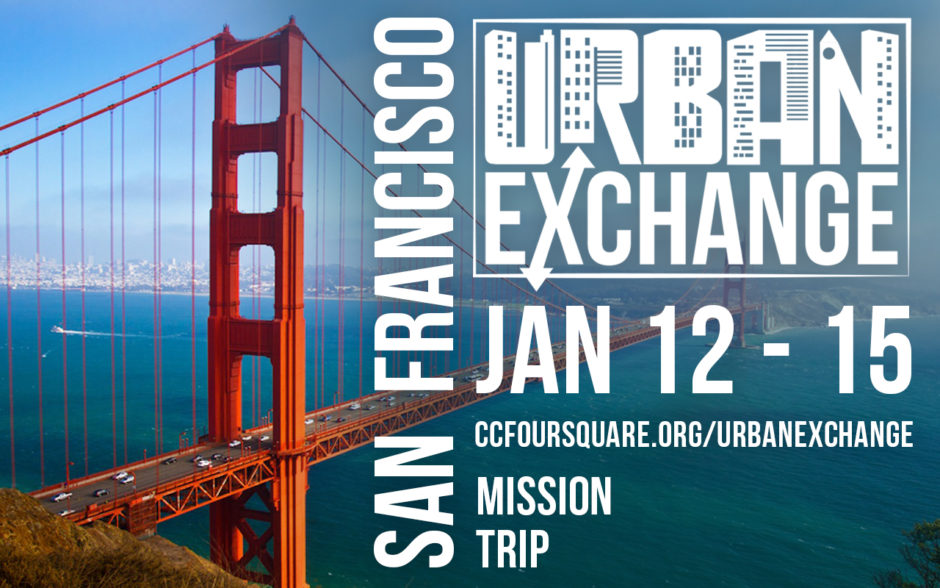 Dates: January 12-15, 2018
Cost: $200 per person
(These costs include housing, food, supplies for outreach projects and any public transportation used in the city. Costs for getting to SF not included.)
Deadline: $50 Deposit due at Registration. Balance due by Dec. 15  (Checks can be made to Foursquare Church, 144 Butte Street, Crescent City, CA 95531)
REGISTER
Your experience will benefit San Francisco and our church planting efforts because it:
• Blesses residents with providing support through beautification.
• Fights human trafficking.
• Blesses immigrants.
• Serves the homeless and urban poor.
• Shows compassion to people on the fringes.
• Builds relationships as we partner with Good San Franciscans.
• Fosters a reputation in San Francisco that we are Christ centered people who are doers and givers.
Your experience will benefit your church because it:
• Provides a very accessible and affordable missions experience.
• Creates training for oversees missions.
• Equips team members to live a more missional lifestyle.
• Teaches how Jesus lived and ministered.
Accommodations:
• Teams will stay at the Waller Center, which is fully equipped with a commercial kitchen, dining area, cots, bunk beds and showers.
"Urban Exchange is a great opportunity for local churches to sow all or part of the 20% return on their extension tithe; which is to be used exclusively for missional activity." – Bill Chaney
Learn more about Urban Exchange here
Categories: Churchwide Events, Help Ministries, Men's Events, Men's Groups, Men's Ministry, Ministries Main, Missions, Serving Areas, Small Groups, Upcoming Events, Women's Events, Women's Ministry, Youth Groups, Youth Ministry